We may be down to just eight games of AFL this weekend, but that's still more than enough to keep us busy and there are some hard choices to make when tipping this week.
Geelong and the Bulldogs both have plenty to lose when push comes to shove on Friday night. You'd think if Geelong were capable of quickly snapping out of their recent bad form that they would have done it already – Bulldogs for me.
St Kilda and Sydney have both hit some great form over the last few weeks, making their match on Saturday a cracker. I'll back in the Saints.
With injuries mounting GWS are vulnerable, and though Richmond have lost three in a row they've but in good effort along the way most of the time. I reckon the Tigers can pull it off.
What's a par margin for Adelaide after two bad losses when they go to play Brisbane? They'll want to make amends and we could be in for a triple-figures smashing.
Collingwood and Hawthorn is as difficult a match to tip as we get all week, neither side consistently displaying their best footy. With Hawthorn losing several key players to injury I'll go Collingwood.
West Coast and Essendon play a simillar brand of footy, and at the moment West Coast do it better, even if they are on the road.
North Melbourne have a fifteen-game winning streak over Melbourne, the longest current streak in the AFL. Can the Dees break it on Sunday? As a Roos fan I hope not, but suspect they will. Except liberal use of the phrase "Roo Hoodoo".
Fremantle at home should get over the line against Carlton, but if the match was being played in Melbourne things would be a lot more interesting.
GWS rescued me from a third wrong Lock of the Week in a row last week – thank you Stevie J. The Crows are it for me this week.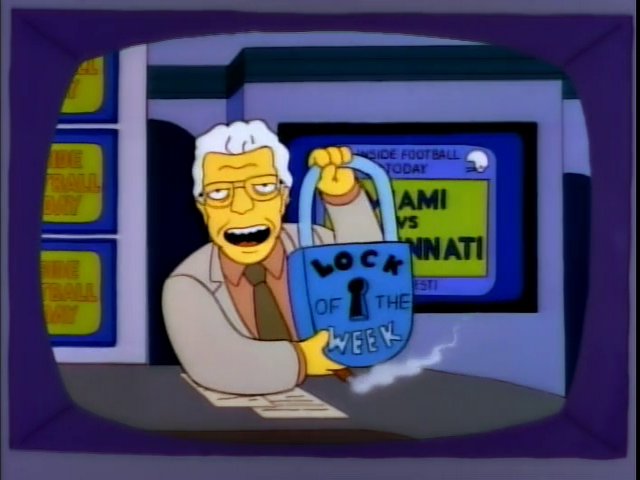 Maddy Friend
Bulldogs, Sydney, GWS, Adelaide, Collingwood, West Coast, Melbourne, Fremantle
Geelong versus the Bulldogs will be a great game, with the Cats playing their first of three consecutive matches at the redeveloped Skilled Stadium.
The Cats will be out to make a statement after their recent losses, but I think the Bulldogs will get the job done, especially if they welcome back Mitch Wallis and Tory Dickson as has been foreshadowed.
Sydney are finding their mojo again, and I expect them to take it up to the Saints. Buddy Franklin likes playing the Saints, and it wouldn't surprise me if he gets off the leash again. I'm tipping the Swans in a close one.
GWS should account for Richmond at Spotless, while I expect Adelaide to bounce back in a big way against a hapless Brisbane.
Hawthorn's recent injury woes open the door for Collingwood – it should be a close one, and I'm tipping the Pies, just – I think their midfield strength will get them over the line.
West Coast should account for a resurgent Essendon in a close match, while I'd expect Melbourne to beat North, but it really depends which Melbourne team shows up.
In the final game, Fremantle should beat Carlton at home, but I expect the Blues to give a decent account of themselves.
Cameron Rose
Bulldogs, Sydney, Richmond, Adelaide, Collingwood, West Coast, Melbourne, Fremantle
Friday night football delivers a pearler – either Geelong loses four in a row or the reigning premier Dogs lose their third game in four rounds and in all probability fall out of the eight. I'm banking on the Dogs to get it done.
Sydney are back in town, up against a St Kilda outfit with their sights firmly on finals, and a high up finish at that. Swans to keep going, for mine.
GWS are gettable, and I might just bank on my Tigers to pull off the upset at Spotless Stadium that Collingwood couldn't. Adelaide to get back on the winners list against Brisbane. Collingwood seem to be going two losses and then a win so far this season, and I'll bank on that trend to continue with victory over Hawthorn.
On Sunday, West Coast comfortably over Essendon, even though it's at Etihad. Melbourne to beat North. Fremantle to continue on their way against Carlton in Perth, but it won't be a snack for them given the Blues beat them there last year.
| | | | | | |
| --- | --- | --- | --- | --- | --- |
| Round 9 | Josh Elliott | Maddy Friend | Tim Lane | Cam Rose | The Crowd |
| GEE vs WB | WB | WB | WB | WB | WB |
| STK vs SYD | STK | SYD | SYD | SYD | STK |
| GWS vs RIC | RIC | GWS | GWS | RIC | GWS |
| BRI vs ADE | ADE | ADE | ADE | ADE | ADE |
| COL vs HAW | COL | COL | COL | COL | COL |
| ESS vs WCE | WCE | WCE | WCE | WCE | WCE |
| MEL vs NM | MEL | MEL | NM | MEL | MEL |
| FRE vs CAR | FRE | FRE | FRE | FRE | FRE |
| Last week | 4 | 5 | 5 | 7 | 5 |
| Total | 40 | 40 | 42 | 44 | 45 |